Our Caring & Compassionate Team
Meet the Veterinarians & Team of Fort Meade Animal Clinic in Fort Meade! We're pleased to provide exceptional vet care for your pets! Please call us at 863-285-8652 to speak to one of our caring veterinary staff members!
Lori Shank
DVM
Dr. Shank is a 2004 graduate of Ross University (with a clinical year at Oklahoma State University), along with her husband Brian purchased the Fort Meade Animal Clinic in late 2010 upon the retirement of Dr. N.L. Black. Dr. Shank also received her certification for both large and small animal acupuncture from the renowned Chi Institute. She started her veterinary career at the Abbott Road Animal Hospital in Orchard Park, N.Y., and also worked at the Buffalo Small Animal Hospital before accepting an associate veterinarian position at Lake Wales Animal Hospital in 2007. Dr. Shank and Brian have seven cats (Phantom, Dweezel, Sebastian, Pointdexter, Valencia, Norman and Nikki), three dogs (Verde, Roscoe who also doubles as the clinic's blood donor, and Sheldon), all rescue animals, as well as two horses (Dino and Rocky.)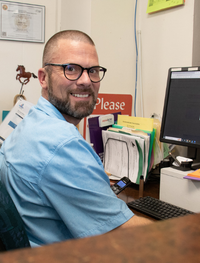 Ryan Scarborough
Practice Manager
As we grow, Ryan serves as our Practice Manager, making sure you and your pet have the most effective, efficient and pleasant visit possible. Ryan comes to us from east Polk county where in 2011 he helped start a brand new clinic. Prior to that, he worked at Lake Wales Veterinary Hospital with Dr. Shank! He has relocated to Fort Meade and enjoys walking his cattle dog, Daisy, through the historic residential area of town in the evenings. He resides with his Australian Cattle Dog, 2 Chihuahuas, 2 cats. All of Ryan's pets are re-homed or rescued. In his spare time, Ryan volunteers for the Center for Great Apes in Wauchula, a permanent santuary for orangutans and chimpanzees who have been rescued or retired from the entertainment industry, from research, or who were no longer wanted or able to be kept as pets due to their size and strength.
Maribel Garcia
Veterinary Technician
Maribel is one of our great veterinary technicians who can just about do it all, and she is fluent in Spanish. Maribel's daughter Gema just graduate from Fort Meade Middle Senior High School with high honors. Like most of us, she is "mom" to a menagerie of furry family members!
Allysa Greenlee
Veterinary Technician
Allysa has live in Fort Meade for over 20 years now. She graduated from Fort Meade Middle/Senior High School in 2009 and went on to major in Biology at South Florida State College. She graduated with her Associates degree in May of 2013. She began working at Fort Meade Animal Clinic that Summer after college. She got married in June 2010 to her husband Shane and they had their first child, Dawsen in May of 2014. Two years later, they had their second child, Dillen in November 2016. Allysa & Shane have Catahoulas, a Boxer, and a Rhodesian Ridgeback, named Ariel.
Megan Brown
Veterinary Technician
Megan was born in Port St Lucie, Fl and relocated to the Bradenton, FL area where she lived most of her childhood years. After moving to Wauchula, she attended and graduated from Hardee Senior High School in 2009 and went on to volunteer and work in the veterinary field full time. Growing up with having pets in the house, Megan decided that a career as a Veterinary Technician was what she wanted to do. She attended Penn Foster College and earned an A.S. Degree in Veterinary Technology in 2018. Megan got married to her husband, Jametris Brown in 2016 and they have a beautiful daughter, Aubriana, who is four years old. Megan and Jametris have a cat named Gucci. Megan and her family enjoy traveling to South Dakota to visit family, being outdoors and going to the beach.